The Laird Takes a Bride

by Lisa Berne
Series: The Penhallow Dynasty, #2
Publisher: Avon, August 29, 2017
Goodreads | Amazon | Barnes & Noble


Lisa Berne's Penhallow Dynasty series continues as a Highlander marries against his will —

and discovers he may have found the perfect bride.

Alasdair Penhallow, laird of his clan and master of Castle Tadgh, is forced to end his carefree bachelorhood, thanks to an ancient decree that requires him to marry. But Alasdair's search for a biddable wife comes to a screeching halt when Fate serves up Fiona Douglass. Prickly as a thistle, Fiona challenges him at every turn, rendering herself surprisingly irresistible. Her love would be a prize indeed . . . if Alasdair could accept it.
Fiona gave her heart once, and doesn't plan to repeat that folly. Yet she finds herself drawn to Alasdair's intelligence and strength, and the passion he incites goes well beyond her expectations for what's only a marriage of expedience. Despite herself, she's falling in love with her husband.
But there's a high wall between them — and Fiona's not sure it can ever be torn down.
I have a special soft spot for historical romances. Especially those set in England or Scotland. Especially when they have a strong heroine, a twist of lore, and a hero who is reluctantly falling in love. So on the surface, The Laird Takes a Bride should have been the perfect read. But there were a few elements that kept the book from being an easy win.
Simply, there was too much going on in the plot. From archaic rules dictating who and when the laird should marry, a historical romance version of the Bachelor, to conflicts with neighboring clans, I couldn't follow the thread of The Laird Takes a Bride's main plot. Each idea would have been great alone or paired with just one other, but together, it felt jumbled.
The overwhelming amount of things going on stilted the character development. It was hard to get to know them. Let's take Fiona, the heroine, for example. She's already classified as a spinster, destined to remain with her family until her death. Then mix in her father's physical and verbal abuse, her mother's meekness, and her cousin Isabel's past interference with Fiona's love life, which ended in her sister marrying her one true love. That's a lot for a girl to deal with and would have made for a fascinating character. But she never gets to build it up, create her motives, her thoughts, her feelings, because Berne throws her into the Scottish Bachelor.
Speaking of the Scottish bachelor, Laird Alasdair has enough going on in his own life, thank you very much. Raised by an uncle who would rather teach him to party than to be a laird, Alasdair discovers with a rude awakening that he needs to marry as soon as possible to one of the local noble ladies. Add in his own demons (family, past lovers, etc) and he's got a lot going on. Again, it would have been an interesting character if The Laird Takes A Bride had given him enough time to develop.
When these two troubled, undeveloped characters met, their chemistry just wasn't there. The love scenes and tender moments didn't make sense because they didn't have the background to support them.
Fiona was determined to make the best of her lot, an outstanding characteristic that shone through the muddle. This pushed Alasdair in unexpected ways and forced a little character development for them both.
For me, the saving grace of The Laird Takes a Bride comes in two parts: the wacky old wisewoman and the final climatic scene.
The wisewoman was funny – occasionally unintentionally – and brought a little personality and humor when I felt I couldn't make heads or tails out of the narrative. Her small role in forcing Fiona and Alasdair together was subtle, but crucial to the plot.
And that final scene. Sigh. It brings to mind that beautiful scene near the end of  2005's Pride and Prejudice. You know the one I mean…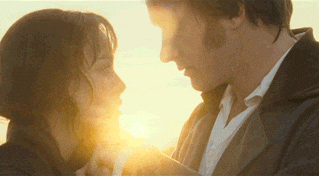 Yep. That one.
The romance between Fiona and Alasdair was good; with all the activity, there was plenty of tension. Yet without more character development, I felt little attachment to them. It's the final scene, so quietly poginant and stunningly emotional that saved the story.