I can't believe it's 2018. It's like I blinked, and an entire year went by. But boy, what a year!
I'll admit, I lost my reading mojo in 2017. I didn't quite meet the goals I'd set for myself, so instead, I'm making a few changes, especially when it comes to reading challenges. In 2018, I'm trimming it down to find my groove again. Check out the challenges I've set for the new year!
2018 Contemporary Romance Reading Challenge
Runs January 1, 2018 – December 31, 2018 (books read prior to 1/1/2018 do not count towards the challenge). You can join anytime you want, though the sign up linky will close Nov. 15, 2018. 

The goal is to read as many Contemporary Romance books as you'd like. See the different levels below and pick the one that works best for you. You can move up a level as often as you'd like but no moving down. Remember, the idea is to challenge yourself.
Books that qualify for this challenge can be young adult, new adult, or adult. Books can be M/F, M/M, or F/F. Books must be a work of fiction (sorry, nonfiction does not qualify for this challenge).
Romances with the following elements do not qualify for this reading challenge: paranormal, historical, time-travel, fantasy, science fiction, or mystery/suspense/thriller.
Books can be any format (print, ebook, audio).
Novellas that are 100 pages in length (give or take), as well as full-length novels, will count for this reading challenge.
Re-reads and crossovers from other reading challenges are allowed.
Use the hashtag #ContRom2018 when posting your reviews/updates/re-caps/monthly topics on social media.
To join this challenge, grab the 2018 Contemporary Romance Reading Challenge button below and post this reading challenge on your blog to track your progress. Please include a link back to this sign-up post so others can join the reading challenge too. This will be your "update post" when doing the monthly link up.
You do not have to be a book blogger to participate; you can track your progress on Goodreads, LibraryThing, BookLikes, etc., so as long as you have a dedicated shelf for the 2018 Contemporary Romance Reading Challenge (your designated "update post" for the monthly link up) and your profile is not private. The point of linking up is to have a place where people can see what you're reading
3rd base – 11-15 books
Show Me by Abigail Strom
Unconditionally by Erin Lyon
The Wedding Date by Jasmine Guilloy
Dirty Charmer by Emma Chase
Paradise by Judith McNaught
Sugar Daddy by Lisa Kleypas
Perfect Chemistry by Simone Elkeles
Manhunting by Jennifer Crusie
Talk Me Down by Victoria Dahl
Hard and Fast by Erin McCarthy
It's a Fugly Life by Mimi Jean Pamfiloff
Come Sundown by Nora Roberts
Shelter in Place by Nora Roberts
follow my progress here!
2018 Debut Author Reading Challenge
Challenge Objectives:
To introduce readers to this year's wonderful group of debut authors.
To challenge readers to read 12 or more (or less! It's up to you!) middle grade, young adult, and new adult debuts this year.
Challenge Rules:
You must post your thoughts on each debut book you read in order for it to count towards the challenge. You can post anywhere: your blog, Goodreads, Amazon, Instagram, YouTube, Tumblr, etc. If you can link it up, it counts!
You can join the challenge whenever you want.
The debuts must have a publishing date in 2018 and must have been read between January 1, 2018 and January 31, 2019 (this extra month allows readers adequate time to read December debuts) in order to count.
Each review gives you an entry into the bi-annual (two times a year) debut book giveaways (you will get to choose the book you win). Make sure you post the links to my bi-annual link-ups. I will post these link-ups on the first day of January and July.
This challenge is open internationally, as are the bi-annual debut book giveaways (provided Book Depository ships to you).
I don't care what language you write your reviews in, I just need to know which book you have reviewed so I can verify your entry. When you post your link in the Linky, please include the book title in English.
Use the hashtag #DebutAuthorChallenge so we can all see what everyone's up to!
Read the rest of the rules on The Artsy Reader Girl here.
I love the idea of meeting new/debut authors, but in the past, I've struggled to get my hands on a copy of the book in time to read it. This year, I'm aiming to read one debut a month by giving myself a few weeks to find the book before the review is scheduled.
The Queen's Rising by Rebecca Ross
To Kill a Kingdom by Alexandra Christo
The Wicked Deep by Shea Ernshaw
Love and Other Carnivorous Plants by Florence Gonsalves
A Conspiracy of Stars by Olivia A. Cole
Blood Water Paint by Joy McCullough
The Girl King by Mimi Yu
Beast: A Tale of Love and Revenge
Everless by Sara Holland
Nothing But Sky by Amy Trueblood
Sky in the Deep by Adrienne Young
People Like Us by Dana Mele
follow my progress here!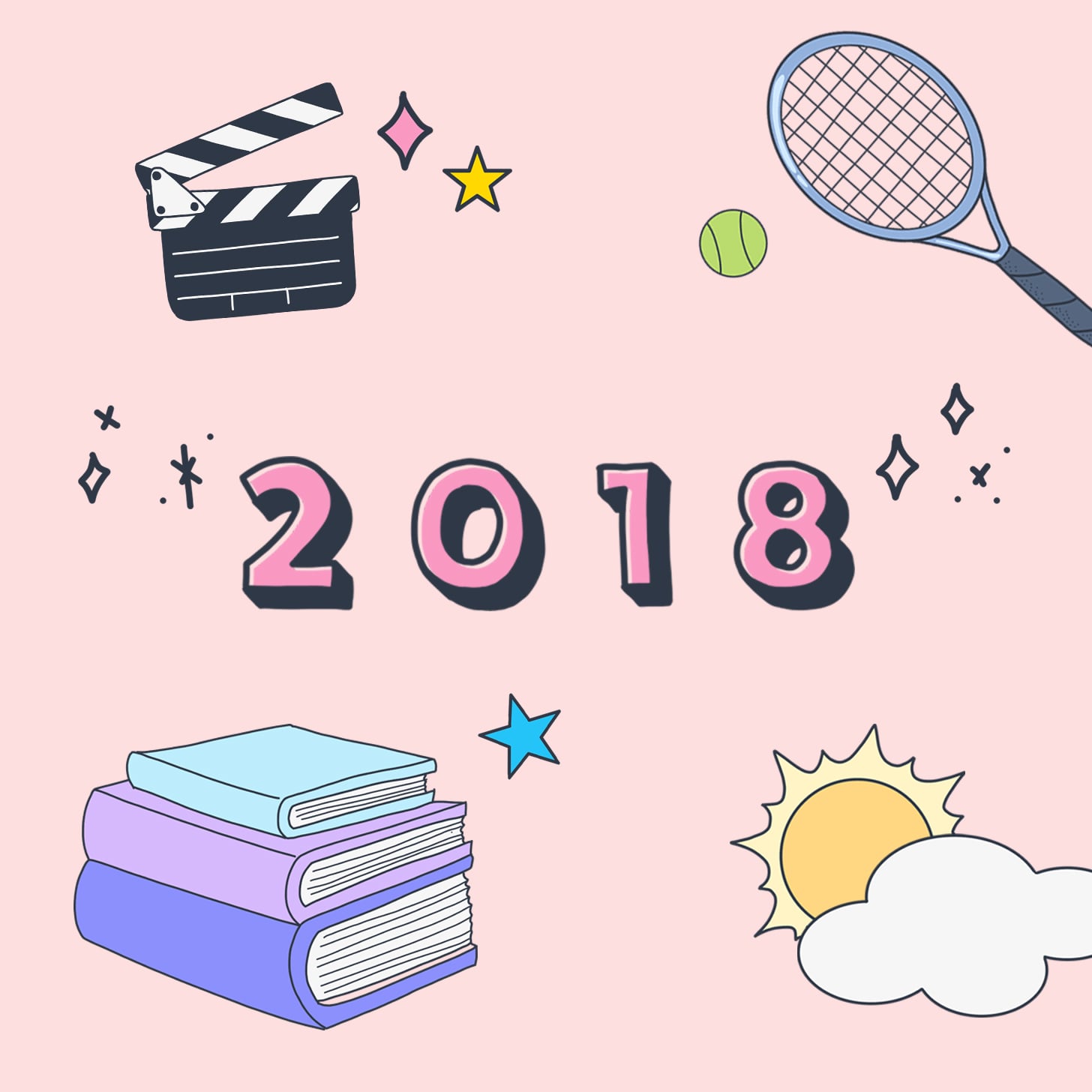 2018 Popsugar Reading Challenge
Complete the 40 book prompts to widen your reading scope in 2018! Download the printable or save the graphic.
I'm planning to finish the 40 prompts by the end of the year. If I do, I'll add the 10 advanced prompts into my blog calendar!
Return of the King by J.R.R. Tolkien
Fire Lover by Joseph Wambaugh
Tower of Dawn by Sarah J. Maas
The Heist by Janet Evanovich and Lee Goldberg
Cursed by Thomas Enger
Murder on the Orient Express by Agatha Christie
Into the Woods by Tana French
Come Sundown by Nora Roberts
Vicious by V.E. Schwab
Dark in Death by J.D. Robb
Career of Evil by Robert Galbraith
The Gentleman's Guide to Vice and Virtue by Mackenzi Lee
Fantastic Beasts and Where to Find Them by J.K. Rowling
The Handmaid's Tale by Margaret Atwood
Finding Audrey by Sophie Kinsella
Wonder Woman: Warbringer by Leigh Bardugo
Obsidio by Amie Kaufman and Jay Kristoff
The Deal by Elle Kennedy
The Hunter by John Lescroart
The Green Mile by Stephen King
Tinker, Tailor, Soldier, Spy by John Le Carre
Wayfarer by Alexandra Bracken
Storm Front by Jim Butcher
Daughter of the Siren Queen by Tricia Levenseller
The Eyes of the Dragon by Stephen King
The Martian by Andy Weir
Maybe This Time by Jennifer Crusie
Origin in Death by J.D. Robb
The Thirteenth Tale by Diana Setterfield
Pygmalion by George Bernard Shaw
South and West by Joan Didion
Winnie the Pooh by A.A. Milne
Legendary by Stephanie Garber
Without Merit by Colleen Hoover
The Run of His Life: The People Vs. O.J. Simpson by Jeffrey Toobin
Renegades by Marissa Meyer
Free for All: Oddballs, Geeks and Gangstas in the Public Library by Don Borchert
The Appeal by John Grisham
This Mortal Coil by Emily Suvada
Dubliners by James Joyce
follow my progress here.